If you're a wine drinker and you love the feel, the weight and the experience of drinking wine out of a good wine glass, The One wine glass is the best value crystal wine glass on the market. I've been a Riedel wine glass user for about 6 years (since I've been adult enough to have some expendable money and decided it was a worthy investment) and by all means, I love a good Riedel glass. When I first made the jump from the Ikea $1 wine glasses, Riedel was my first choice. the brand recognition is there and it's the easiest jump to make for anyone wanting to make the wine glass plunge.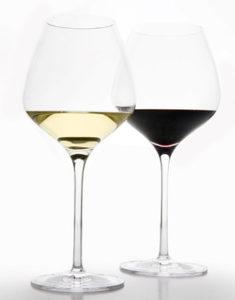 Throughout the years and with many visits to wine tasting rooms, wine bars and booshy San Francisco restaurants, I've been exploring what glasses are used the most and what I like. I always peek to see what that faint etched logo or brand name is on the base of the wineglass. Common brands are usually Riedel, Schott Zwiesel and Stolzle.
One day while wine tasting in and around the Santa Barabara wine region, my boyfriend and I stopped at the Presqu'ile wine tasting room and vineyard. It was a highly recommended winery by my Mom (a fellow wine enthusiast) and my boyfriend's sister who's a well respected Sommelier. Not only were the wines out of this world, but they presented them in these delightfully beautiful, light-weight wine glasses. When I looked at the etching, I saw they were called "The One" wineglasses. I asked the woman pouring our wine about the glasses and if they were crystal. She checked and said they were. I just had to have these glasses, so I asked if I could purchase them at the winery. They charged us two for $30 (if I remember correctly – been a while).
To express how much I love The One wine glass, I will have perfectly clean Riedel glasses in my cabinet at home and I will wash out last night's The One wine glass before even thinking about reaching for the Riedel. My boyfriend (who's much less particular than I am) always grabs The One glass too. There's something magical about the weight, the feel, the amount of the opening, the perfect amount of bulge along the sides and the little dip down in the bottom of the glass. If feels great in my hand and the wine always seem automatic and easy to swirl in my hands. the glass is also a little smaller than the Riedel competitor, but it still gives you enough heft to feel like you're drinking red wine in a grand glass.
When a glass broke, I made sure we replaced it. Through Amazon Prime, we ordered replacements and actually tried the red and white combo box this time. I've been drinking my white wines in The One glass that was apparently for Red Wines. I thought the concept of The One glass was to only have one type of glass for all wines, but I recently learned that they have one glass for all red wines and one glass for all white wines. I still seem to gravitate towards the red wine glass for all my white wines and roses. I recommend just getting the red wine glass for all wines. Two for $30 with Amazon prime free shipping. How do you beat that?
If you're looking for a great wine glass that won't break the bank, but will impress guests and just make you feel like every glass of wine at home is special, The One wine glass is the best I've seen. This is coming from someone who has traveled to 40+ countries and who has lived in California, Washington, Oregon and Ontario, Canada with a Mother that lives near The Finger Lakes wineries in New York. I've tasted wine all over the world (France, Italy, Spain, Croatia, Germany) and I take weekend wine trips from San Francisco to Napa, Sonoma, Carmel, Monterey, Santa Cruz, Santa Barbara etc. as well as an annual Ice Wine tasting trip to Niagara on the Lake, Ontario, Canada… In short, I've seen a lot of wine glasses and I just adore The One wine glass. Best bang for your buck!