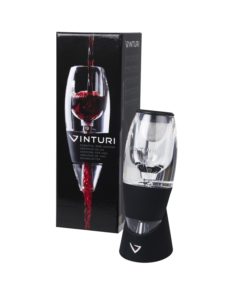 Just want to spread the word that the Vinturi Wine Aerator is at Costco for $14.99 in the San Francisco area. I've been using the Vinturi Wine Aerator for about 6 years myself, but my parents have been using it for probably 10 years or more. It's a standard, must-have wine accessory for any wine drinker and it generally runs between $30-$60 and I've actually never seen it drop below $25 (although I don't monitor by any means). This version of the Vinturi is being sold on the Vinturi.com website for $29.99 plus shipping.
At $14.99, I actually bought four! One to replace my oldie since we do throw it in the dishwasher (probably against the manual) but it was looking pretty ragged. The other three are for gifts. If you're a friend and reading this, pretend you didn't see the article and act surprised. 😉
One thing to note: I looked for it on Costco.com and it wasn't there. I'm guessing this means it's not at all Costco locations nationwide, but it may be a regional treat. I do know that Google Express in San Francisco will let you add it to your cart, but you will still need to be a Costco member and if you're not a Google Express member, you will have to pay a $5 delivery fee. Worth not going to Costco if you're going to spend at least $30 in my opinion.
If you're hoping to aerate a bottle of wine quickly, here's a tip using the Vinturi Wine Aerator. If you have a wine decanter, use both the Vinturi and the decanter and allow the wine to run along the sides of the decanter while it's pouring inside the decanter. Also, I like to take the top off of the Vinturi and rest it along the rim of the decanter to prevent any fruit flies from getting to my wine before me.