Oregon Pinot has been getting recognition globally as a major player in the Pinot Noir world, but what's the difference between California Pinot and Oregon Pinot? After all, California is one of the most recognized areas in the world for wine in general and Pinot Noir is produced in a much higher quantity in California than Oregon.
I'm originally from the Willamette Valley in Oregon and I now live in San Francisco and enjoy in the wine regions all over the area from Napa, the Russian River Valley in Sonoma, Carmel, Monterey, Santa Cruz, Santa Barbara… The list goes on. I realistically have had more California Pinot than Oregon Pinot, but every time I go home to Oregon to visit family, I always pick up a couple bottles of the local Pinot Noir. Why do I drink more California Pinot? Well, simply because I'm a wine club member to some great local wineries to Northern California and the Central Coast and I do feel I get a better bang for my buck generally over the Oregon Pinot.
Now, what's really different in the two regions when it comes to Pinot Noir? First, I would have to say the Climate. The regions in Oregon get a full four seasons and California tends to have more sporadic weather patterns; Generally, California has two seaso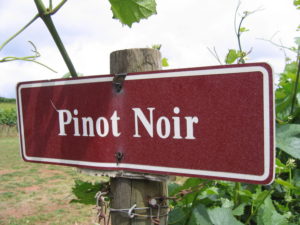 ns, Spring and Fall. There's really no legitimate Winter and Northern California doesn't get a Summer per-say, but 5-7 months of Springtime. The Willamette Valley in Oregon tends to rain a lot for 8-9 months of the year and it only dips below freezing a few times a year. The mild nature of the weather in the Willamette Valley causes the grapes to be more delicate in structure and in-turn, the Pinots actually have a lighter body in the bottle. Oregon Pinots tend to carry that earthiness, typical to the culture and what you would expect from an Oregonian.
Both the Central Coast and Sonoma do bring a cooler climate compared to a lot of California, which brings a great environment for growing Pinot Noir. Even though some California Pinots may be thin in body, generally speaking, California Pinots overall are deeper in body and color than their Northern Sate's friend. Oregon Pinots will usually bring out more crisp red fruits like currents, raspberries and cranberries and California Pinots will bring out deeper red and darker fruits like plums, blackberrries and cherries. Of course, this is a generalization and every wine has it's own characteristics, and Oregon is known after all for its blackberries, so it's not uncommon to find other richer notes, but even then, they will come off more subtle than a California Pinot generally.
Because of the lower tannin to other wine varietals, Pinot Noir generally carries the characteristics of its environment more than most. The lower tannin also makes it more palatable for the newbie wine drinker. My recommendation is that if you're budget conscience and drink wine and Pinot regularly, you'll get more for your money with a California Pinot Noir. If you're new to wine drinking, I actually recommend starting out with a couple Oregon Pinot Noirs as they will be more friendly and lighter in body. It will also be easier to pair an Oregon Pinot with foods than a California Pinot as the complexities are more vibrant in the Cali ones (generally of course).
If you truly want to get an Oregon Pinot experience with pairing wines with food, make sure to try it with an Oregonzola cheese or an aged Tillamook cheddar. For a California Pinot pairing, try it with some tart blueberries, a berry filled Mission Pie or a Humphry Slocombe Tahitian Vanilla scoop with a berry compote on top. Yum!
So, what's better? You decide! Both California Pinot Noir and Oregon Pinot Noir should be celebrated for their unique differences.
Most wines aren't vegan. If you're curious about this and how it's not just fermented grapes in a bottle, click here.